Our Son
This shot is capturing more of my son's happiness than my own - a brand new set of Phineas & Ferb pajamas
($3 on the Walmart clearance rack. Woot!)
, chocolate milk mustache and playing outside - but as all mothers know, when your kids are happy, you are happy!
This shot is sooc, by the way.
Yeah, it can use some editing, but that's not gonna happen because A) the theme at Simplicity is 'sooc' and B) I'm too darn tired/busy to care. ;)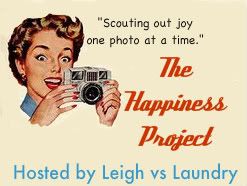 ___________________
And our rings
This is actually my second wedding ring.
My first was flushed down the toilet, courtesy of the kid above.
It was when I was pregnant with our second and my fingers were too swollen for my ring to fit. I stupidly kept it on my nightstand, well within reach of our then 1 1/2 year old.
Before:
After:
I edit with PSE 8 and I honestly can't remember all I did to this shot!
I ran multiple PW Actions including Vintage, Boost, Heartland and adjusted levels.