...not because it's overly spectacular, but because it's a little long.
This colorful bokeh makes me smile! :)
I think this spot is a bokeh paradise, because below is a shot I got of the exact same tree this past Spring.
(Apparently, my focusing abilities have improved! Score!)
______________
This one is from last week's Simply Photography assignment.
Here it is SOOC:
But I
had
to edit it!
I like both, but for different reasons.
Which do you like best?
_____________
Technically speaking, this shot isn't very good. But life rarely stops for me and my camera.
And I'd rather enjoy it than capture it perfectly - and these two make me wildly happy each and every day!
...as well as wildly crazy with frustration ;) ...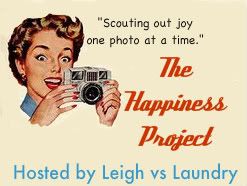 ___________________
The theme this week at Trendy Treehouse is babies!
But since my babies are not really babies anymore, I dug out some cute snapshots of them from when they were both right at 7 months.
I can't post one baby and not the other!