This is the church where my BIL (and now SIL!) got married two weekends ago.
It's a 12th century church that was relocated from London to Fulton, Missouri of all places.
And it. Was. Gorgeous.

This was a mirror that was hanging on a wall in "Winston Churchill's office" at the museum.
Oh, and that's my husband and daughter in the reflection!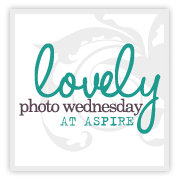 This was a centerpiece at the reception.
The reception hall was attached to a house, where we and several other families stayed, which was incredibly convenient...although a bit unusual.
So, I was able to go out early the next morning and shoot the flowers in peace and quiet in the bright morning light.