In the last week Breck has really taken to swimming!
He's been 'practicing' laps in our tiny kiddie pool and just yesterday tried opening his eyes underwater.
Both kids decided to make their own 'diving' game.
One will throw a car to the other end and the other will retrieve it.
In the shot below they had both gone for it and Rowan came up the victor!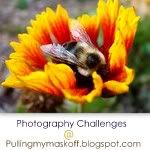 Then I got the idea in my head that I should get
really
close to the action for some splash shots.
I was soaked after this one...