Happiness is...beautiful stringed lights.
There's just something about light bulbs on strings that I find beautiful and surprisingly romantic.
These particular ones were hanging, oddly enough, over a playground at the Royals' baseball stadium.
Not an atmosphere I'd call romantic, but still surprising and beautiful!
I'd have loved to go back once the sun had set to get a shot of these babies all lit up and with all their gorgeous bokeh! But, with a very cold wind and two cranky kids who wanted to go home, I had to save it for another time.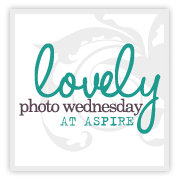 ***
Happiness is...unexpected perfection.
This is another one from Saturday.
We stopped on a quick errand before the game and I stayed in the car with the kids while Seth ran into the store. As I looked out my window, this is what I saw! We had parked just at the end of the store front walkway, the lighting was gorgeous and there on the wall was a beautiful barber's pole! To make the image even better, the store next to it sold pottery and had those big, beautiful pots sitting outside!
To be honest, I loved the shot in color so much that I wasn't sure it would look as good in b&w...glad I gave it a go!
Here it is in color, too.
'Cause I know y'all were dying to see it!
;)