Last Wednesday we left to spend Thanksgiving with my side of the family.
We drove through fog for the entire 4 hour trip.
While it didn't make for excellent driving, it did make for some neat shots and scenery!


This little guy lives in the oak tree in our backyard.
He and his family often come up to our deck to sun themselves.
...and occasionally bury nuts in our patio cushions.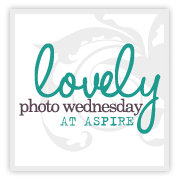 Seth and I had a rare treat while in Iowa: a date!
No kids, no car seats, no pressure to be home at a certain time - it was bliss!
On the way there, I looked out my window to see the above. I thought it was beautiful and wanted to share!
We saw the new Harry Potter movie on our date. It was great!
This one is from the archives.
When I saw that this week's theme/prompt was tire, I immediately thought of this shot.