I have so many things to share with y'all!!!
* First, be sure you visit
Mountain Mama
to enter her giveaway for any 8x10 print from my
Etsy shop
!
* Second, if you have any desire to get to know me a little better go to
Yours Truly
to read the interview I had with Jess!
* Third, if you haven't yet participated in the
June Quarterly Top 5
link-up you have only one day left to do so...and then you'll have a chance of winning an 11x14 print from my shop or one of two other fab prizes!
* Fourth, did you notice my new watermark?! It took me a while to get around to it, but I'm pretty happy with the look.
*And fifth, if you participate in
Sweet Shot Tuesday
and
read what Darcy writes did you notice anything really super cool last week? Like, I totally won the awesome shop credit to
Paint the Moon
?!?!?! I'm still a bit giddy. I got the
Moxie Set
and you can rest assured that you will get to see all 26 gorgeous actions in...well, action.
Oh, and I have to tell you this
funny story
...so, while I was looking through the before/after gallery trying to pick out which set I'd get, my husband came over, looked over my shoulder and asked why I'd want to win pictures of other people...oh yes, he was serious. Anything photography related is completely lost on him...I'm sure he feels the same way about me and sports.
...there's also one more
totally exciting
thing going on, but I'll wait to share that info until it's done...
*****
We spent the holiday weekend with my husband's family. His parents live in a small town and his brother and family live on the farm. We spent a good part of Saturday at the farm: harvesting several acres of wheat that Grandpa set aside especially for the kids (shots to come), swimming, cooking out, shooting off some fireworks and once the kids had gone home with grandma and grandpa, my husband, BIL, SIL and I played Rock Band! Talk about unexpected fun...we had a blast! It's weekends like this that make me wish we still lived close to them. God certainly blessed me with amazing in-laws and I am so grateful for that...I know too many people who can not boast this same thing.
This is about the extent of the fireworks shots that I got. We didn't watch any 'real' fireworks shows....next year, by golly, I am going to a big show...by myself or not!
We did watch the huge and amazing fireworks spectacular that was aired from NYC. Talk about breath taking! While we were watching, my son told me that I should go get my camera. LOL!
(for the record, I almost did.)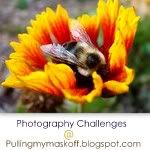 And here's one for Touch Up Tuesday.
I love country views and old red barns!
Before:
After:
My edit reminds me a bit of The Wizard of Oz...but, I am in Kansas after all!
Step 1. Splice in a blue sky photo - the original sky wasn't doing it for me.
Step 2. Run
Paint the Moon's Tilt action
.
Step 3. Run
Paint the Moon's Heart and Soul action
.
Step 4. Add a rainbow using
this tutorial
.
Step 5. Straighten image.